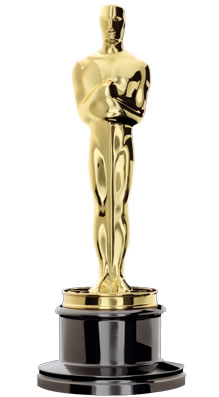 The Academy Awards are just a few days away and I have to admit that I am excited….primarily because of the fashion. I admit that I have not seen a movie in an actual theatre in at least three years and have only seen one current movie this year (Bridesmaids). Nonetheless, the Oscars mark the end of award season in Hollywood. All of the rich and famous can start eating again. The winners can bask in the glory of their stardom and wait for the scripts and high salaries to roll in.
Awards season is much like the succession planning process in organizations, but a lot more glamorous. The vetting that goes on before each set of awards are given is much like the talent assessment process. Performance is reviewed and evaluated by a select group of judges based upon a list of criteria. Nominations and votes are collected to support the final decisions. I have to assume that the groups of judges use some sort of 9 box chart to assist them!
The Oscar for Best Change Leader Goes to….
A series of talent review sessions take place throughout the course of the season with the award shows that lead up to the Oscars (i.e, The Golden Globes, The Screen Actor's Guild Awards). At the end of the series, Hollywood will finally see who comes out on top. The Oscars serve as the final talent review, considering overall performance for movie actors. The best performers of the year.
And the Winner Is…..
Every year, the media highlights the secretive and subjective nature of the awards given in Hollywood. Unfortunately, the succession planning process in organizations is often viewed in a similar way.
As talent management is becoming increasingly more high profile in organizations, positive changes are being made in the execution of the succession planning process. HR Leaders have worked with senior leadership to clearly define the criteria that will be used to evaluate talent during the talent assessment process and created tools to assist in talent review, including the 9 box chart. In my experience, transparency in succession planning is critical to reinforcing a culture of high performance and development in organizations. For additional insight, read Is It a Secret? Communicating Hi-Po Status in Succession Planning.
Just as social media keeps the world updated on the Hollywood awards season every step of the way, technology makes succession planning an on-going, dynamic process within organizations. HR software eliminates the administrative burdens typically associated with the succession planning process and provides critical talent information to leaders for real-time decision making. Technology makes succession planning part of the normal course of doing business and keeps talent top of mind for leaders.
What are your thoughts? Share your comments and experiences!
Learn more about how technology can help your organization execute the succession planning process. Take a Quick Tour of viaPeople's Succession Planning System.

Karen N. Caruso, Ph.D.
kcaruso@viapeople.com
@EnjoyJourney