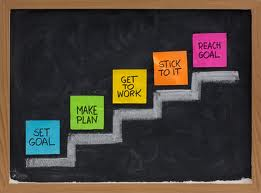 Development goals are only achieved through focused and consistent action. It is important to continuously remind ourselves that behavioral change and improvement is about doing things differently and taking action.....but often times, more energy is spent on planning that on actually doing!
Development actions are the specific action steps that an employee will take, in support of a development goal, to achieve the desired behavior change.
Types of Development Actions
Attending a training course is usually not the answer. There are several kinds of actions - one or more of which may be appropriate for a specific individual or to target a specific development need. Take a look - you might think of something new.
Self-Development
Reading selected books that relate to a development goal to increase knowledge, gain a new perspective, or enable one to learn the basics of an unfamiliar field.
Observing others who have considerable expertise in a skill or area in which one needs to grow and develop can be extremely valuable.
Attending professional association meetings or conferences to keep up to date with the latest thinking and trends in your field.
Feedback and Coaching
Actively seeking feedback is highly developmental, and can be very valuable if one is truly open to listening and committed to taking action to improve.
Trusted peers or colleagues can observe performance or behavior and provide feedback - we just need to ask!
Self-assessment instruments and 360 feedback tools can provide valuable insights and help them identify themes and trends in their performance and behavior, and help one to determine if they're actually making progress against their development goals.
Business partners and customers can be valuable sources of feedback and coaching as well.
Skill Practice
Another type of development action is practicing the new behaviors associated with a development need in a safe environment.
Developmental Assignments
For some development goals, an individual will need the opportunity for a special assignment, or the opportunity to take charge of a project that requires the use of new behaviors. Special assignments or projects should be challenging, designed to force an individual out of their comfort zone and stretch skills. It is under these conditions that significant development often occurs.
Read more about development planning that works. Download our step-by-step eGuide: Making it Happen! A Guide to Performance-Driven Development Goals now!
Click here to learn more about viaPeople's online Performance Management tools.