What is Leadership Derailment?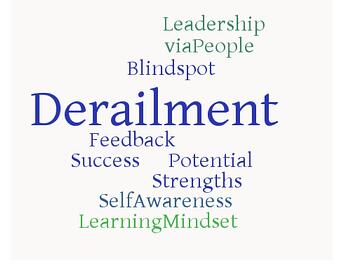 Leadership derailment can be described as being involuntarily plateaued, demoted, or terminated below the level of anticipated achievement or reaching that level only to fail unexpectedly. The term is often applied to individual leaders who had been expected to move into higher-level positions but who are unexpectedly knocked off track. An individual who has consistently been perceived to be a high performer can derail if they are unable to adapt their skills and behaviors to meet the changing demands of the role or the organization.
Leadership derailment can be especially costly to an organization in terms of both financial and people costs. When a leader derails, the organization bears the expense of the lost developmental investment in that leader, as well as the costs associated with the individual failing in a position. These costs are coupled with the implications on employee engagement and motivation. Derailment can be emotionally devastating to the individual and have a long lasting impact on the individual's team and colleagues.
Characteristics of Individuals Who Derail
Leadership derailment does not typically occur due to a lack of skills or the absence of a particular set of behaviors. Leaders get off track due to the demonstration of "derailers." Leadership derailers are specific individual attributes and resulting behaviors that are most likely to stall or stop someone's career. Leaders tend to exhibit derailers in certain situations:
During times of high stress
While carrying a heavy workload
When not paying attention to or monitoring their behavior
During times of change and transition (i.e., starting a new job, dealing with a personal crisis)
Derailment is not about results. While a failure to deliver business results can certainly cause one's career to go off course, leadership derailers are not typically related to the achievement of outcomes. Business results will suffer due to the demonstration of derailers but poor results are not the cause. A great deal of applied research has been conducted to help us understand the specific individual attributes related to derailment. Overall, the research points to several enduring themes:
Problems with interpersonal relationships
Failure to build and lead a team
Lack of self-awareness
Inability to learn from feedback and experience
Trust/integrity issues
Inability to change or adapt
Poor composure under stress
Over-reliance on strengths
Leadership derailers can evolve and change over time, depending on the environmental conditions and organizational demands. A characteristic that might not have derailed someone ten years ago could easily derail the individual today (i.e., insensitivity to gender issues, or racial bias). Similarly, what causes a leader to fall off track in one company may not do the same in another. While there are proven themes, organizations should define the specific derailing factors that align with their culture and strategy in the same way they define leadership competencies (see Competency Models: One Size Does Not Fit All).
Organizations Often Cause Leadership Derailment
Leaders who lack self-awareness and fail to learn from their experience contribute to their own derailment. Nonetheless, organizational systems, processes and culture contribute to the derailment of leaders. The 7 most common ways that organizations contribute to leadership derailment are:
Poor selection processes - not accurately assessing skills, capabilities, and/or culture fit.

Promoting people so fast that they never finish a job and learn from their experience in any one position.

Linking success and rewards too closely to moving up the organizational hierarchy.

Tolerating "bad behavior" from individuals recognized for achieving strong business results.

Allowing one failure to knock someone off of a leadership growth track without supporting learning from mistakes.

Emphasizing results or "what you did" feedback over "how you did it" feedback.

Allowing functional/business unit talent hoarding which limits an individual's ability to develop broad leadership skills and perspective.
Minimizing Leadership Derailment
Understanding and defining derailers is the first step for organizations to take in trying to minimize leadership derailment. Creating a framework of derailing factors will create a foundation for selection, development and succession planning processes. Consider the following three steps to reducing leadership derailment in your company.
Provide leadership with frequent opportunities for formal and informal feedback. Integrating derailing behaviors into

360 degree feedback

and ongoing development discussions can help leaders develop accurate self-awareness and have the chance to change behaviors based upon feedback.

Integrate the assessment of derailers into the talent assessment and

succession planning process

. Derailers should be considered along with other important criteria used to determine performance, potential and readiness. Derailing behaviors can greatly limit the impact of other characteristics, including intellectual capability and technical skills.

Provide coaching for leaders as they assume new roles and responsibilities. Support during stressful times can help leaders keep potential derailers in check and smooth the transition into a new position.
The Industrial Organizational Psychologists at viaPeople have worked with many organizations to integrate leadership derailment into the talent strategy and talent management processes. Click below to contact a consultant to discuss your specific needs.