viaPeople's Rating Calibration Feature Instantly Compares Performance Across Teams
HR software should not only make things easier but also help you to improve your processes. viaPeople's team of Industrial Organizational Psychologists have designed the Performance Rating Calibration feature to ensure consistency and fairness in the evaluation of critical performance factors. Here is how it works:
1. Reviewers make ratings on competencies/behaviors on all members of their team or work group.
2. Reviewers use Performance Rating Calibration to:
Visually compare performance and align ratings across teams and work groups,
Compare the relative strengths and improvement areas of employees side by side, and
Make rating changes in real time.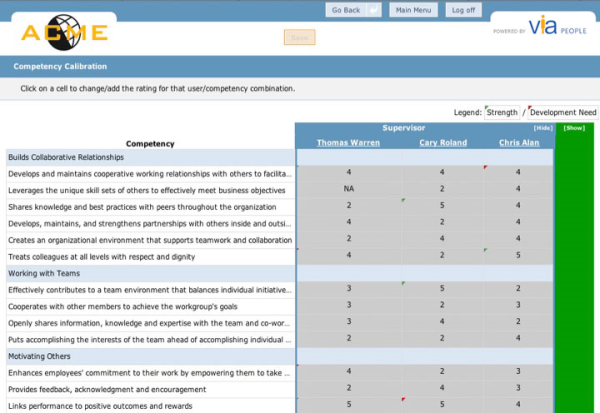 viaPeople's Performance Rating Calibration feature can be utilized as part of the 360 feedback, employee performance review, or talent assessment/succession planning process. Reviewers can use the built-in filters to calibrate ratings across individuals in a specific role for example, to review all direct reports in a side-by-side manner. Reviewing the ratings in this manner encourages raters to rethink their individual ratings on a particular competency/behavior. Reviewers often reconsider and make further changes to their ratings when they are considered in this unique framework. In these situations, they can readily make the rating change right in the calibration table, and the appropriate evaluation is automatically updated. Senior leaders in particular find this method of making ratings to be a simple and effective method for increasing variability in ratings across the talent pool.
Click below to see how it works for yourself. Take a look!